Mining Engineering Scholarship in Memory of Dale Ramsey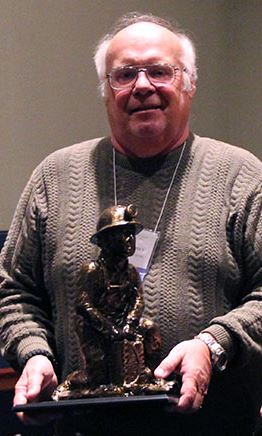 Friends of Dale Ramsey have established a scholarship opportunity for Penn State students majoring in Energy and Mineral Engineering in the College of Earth and Mineral Sciences.
Please consider providing a charitable donation (receipt provided) via the scholarship online gift form.
In April 2016, we lost our friend Dale Ramsey. For more than 42 years, Dale was the general manager at Senex Explosives, Inc., and he was a member of the International Society of Explosives Engineers (ISSE) and served as the organization's president for two years. Dale was a well-known figure in the blasting world, and some of his friends have come together to establish the Mining Engineering Scholarship in Memory of Dale Ramsey in the College of Earth and Mineral Sciences.
Dale's connection to Penn State was strong. He was a student here in the 1970s, and even though he later attended Virginia Tech, he remained a Penn Stater at heart. In the 1980s he got involved in the planning committee for the Pennsylvania Drilling and Blasting Conference being held on campus, which became a biennial event and for which he remained on the planning committee for more than 30 years. Dale also drove the startup of a Penn State ISEE student chapter, and he served as a passionate and well-connected industry mentor to the group. He arranged site visits, brought experts to campus to speak to the chapter, and chaperoned the students around the ISEE annual conference each year where they got to meet Dale's friends and colleagues, which means nearly everyone.
Dale possessed both an incredible sense of curiosity and remarkable enthusiasm. He loved to learn and try new things and, even more, he loved to teach and tell others about the things he had learned. This made him a perfect mentor for our students who had an interest in the explosives industry, and it made him an ideal leader in that industry itself. He was very proud of having served as president of the ISEE. It was the perfect place to funnel his passion for and dedication to the industry. He worked to make every member a consummate professional, and he considered each one a friend. The explosives community is a tight-knit group; almost everyone knows one another at least by name, but for Dale it was more than just a network of colleagues. When he was traveling between job sites or just had a free moment during his day, he'd call up a buddy, which meant just about everyone he knew. He'd tell you about his newest camera or his latest drone adventures, about jobs he had wrapped up, and about new things on the horizon. And he wanted to hear about you, too, and to help with whatever you might be doing or have concerns about. He was generous, and he liked to lend a hand. And those are the reasons that the people who knew and loved him want to see this scholarship fund created. It keeps Dale's name and memory alive among students he would have wanted to help and loved to have seen excel.
Please help support the new scholarship fund in memory of our friend Dale Ramsey.